About Us
All piano accompaniments at pianotracksformusicals.com are recorded live.
I am an experienced accompanist, piano and singing teacher.  I teach many styles and genres of music, all of my students adore singing and performing musical theatre and it is through them that I have really developed a great passion for this genre, one that I would like to share with many singers.  
Contact Us
   if you would like to request a piano accompaniment that does not appear on our list – I would love to hear from you.
Forte Magazine
Piano tracks for musicals .com was recently featured in Forte magazine published by the LCM (London College of Music). You can read the article below:

Taking Musical theatre piano accompaniment into the 21st century

Do you sing musical theatre? Perhaps you can't always find a rehearsal pianist when and where you need one?
If so you may be pleased to hear about the new service at pianotracksformusicals.com.

This newly-launched website offers quality affordable and downloadable mp3 piano accompaniments specifically
for singers of musical theatre.

pianotracksformusicals.com is based in Lancashire and run by Karen Strickland an Associate of the London College of Music and an established piano and singing teacher of 25 years.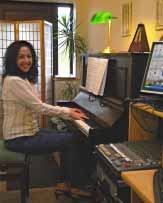 Karen Strickland ALCM (Piano.Pf)
ALCM (Sing.Pf), PGCert, Mtpp.
Karen has enjoyed teaching musical theatre over the years: "I feel it's a great medium for young singers to really get to grips with expression and interpretation; my students all adore doing the music theatre exams, getting into costume and really expressing themselves. I teach many styles of singing but each time I put together a performers' concert for my students, it's musical theatre that they want to perform!"

Karen explained the aims of the website: "I have often been called in to provide piano accompaniment at short notice
and recordings suited to the needs of music theatre singers; web technology allows us to extend this service to a much wider audience. Tracks are expressively played, sensitive to the needs of the singer and recorded in one take. There is a wide range of musicals to choose from with new tracks being added all the time; tracks are just £2.49."

If you can't find the track you want at pianotracksformusicals.com the website also offers an online request service.
Karen commented: "Customers are welcoming the fact that they are able to request tracks of their choice for download."

The website also offers a "Special Order" service for regular customers and bulk purchasers such as corporate and educational institutions who can receive discounts and have orders specifically assembled for them to download at the touch of a button.

Karen added: "As well as offering a quality service to individuals we are particulary hoping to reach more educational users for whom we can offer discounted rates."

pianotracksformusical.com already has a fast-growing client base; as Karen explained:

"There has been a lot of interest in the site so far, and we seem to be fulfilling a genuine need for expressive
piano accompaniments for singers of musical theatre that singers can use when and where they like".

This new service certainly takes piano accompaniment into the 21st century.